Blackhorse Mills is a landmark 479 unit Build to Rent scheme in Walthamstow, London. One of the first in a new generation of bespoke residential investments, this completed development sets a strong benchmark for other projects of its kind with regards to the amenities provided for the residential builds and the high-spec finish of the development.
Through their LGIM Real Assets platform, Legal and General have developed a unique waterside rental destination, providing residents with access to large, communal workspaces; private hire meeting rooms; a yoga studio, games room, swimming pool and views over the neighbouring Walthamstow Wetlands. Designed in close consultation with Walthamstow Council, the site also includes 104 affordable homes, with a dedicated number of these reserved specifically for key workers.
Central to the core area of the building is a flexible, robust space to enable local exhibitions and community events, and will involve and educate local school children and others on culture, ecology and sustainability. This space forms the heart of the development, contributing to the transition from an industrial area to a mixed-use development and creating a destination within the new housing zone and wider community.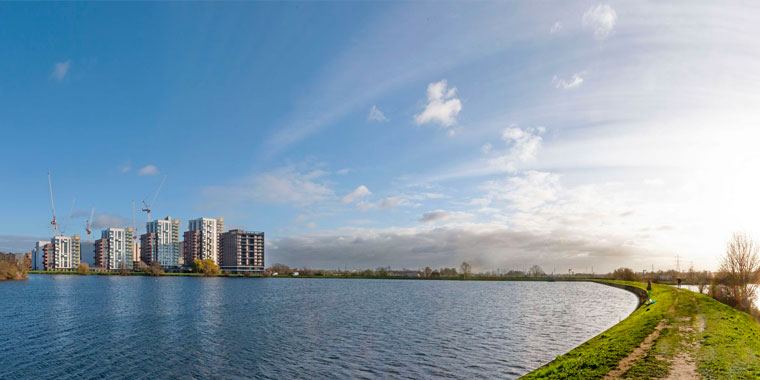 Overlooks
211
hectares of protected wetlands
Over
280
separate sound insulation tests carried out before handover
The scheme benefits from a DfMA design approach and demonstrates the synergy between key Build to Rent design principles and designing for more efficient on site as well as offsite methods.
"Acoustic standards between units 5db better than building regulations"
This development sets a series of important milestones for the evolution of high performing residential assets in the UK :-
This development is also the first ever residential building to achieve WiredScore Gold certification. WiredScore looks to benchmark landlords and developers in the improvement of the digital connectivity of their properties, helping them to understand how to implement best-in-class digital infrastructure. The rating scheme helps landlords to save time and money by reducing the risk of expensive retrofits in the future as well as offering renters transparency and assurance. At Blackhorse Mills, the base build has included high-quality digital infrastructure and a fibre internet connection to every apartment with Wi-Fi throughout the scheme and Ethernet ports in living spaces.
This development is also the first Build to Rent scheme to achieve the Home Quality Mark status from BRE Global, holding its places as the largest residential development of any kind to achieve this status to date in the UK.
The development has gained a coveted Secured by Design Gold Award due to the successful partnership, as rated by the Metropolitan Police's Designing Out Crime team.
The development was recognised at the prestigious WhatHouse? Awards 2020 where it was awarded a Silver in the 'Best Build-To-Rent' category.